When ABS-CBN faced its own crisis within a crisis due to issues with their franchise, a lot of its talent turned to social media to air out their thoughts and feelings about it.
One of the trending videos that came out was of Kim Chiu. In the end she became the author of the "Law of Classroom" or "Bawal Lumabas" meme that became a topic that was hard to ignore on social media.
But businesses can also learn from Kim Chiu on how she handled this. Here are the lessons we can learn from Kim Chiu:
1. KNOW Your Audience.
She knows her audience well. For those who know this artist, they would assume she could either use just English or just Bisaya. But she used the right language – Filipino. This does not exclude anyone in the country since we can all understand the language of Imperial Manila. 😉
She also used the comparison that she thought the audience could relate to – a classroom. Who wouldn't? Here's the original video of her explanation.
How can brands use this lesson? Spend some time to actually know who your audience is or who your customers are. Most especially, what do they want to gain or achieve? That would give you the idea of what voice to use or issues to focus on.
2. Be PASSIONATE about your topic.
Have you seen her video? Have you heard how passionate she was with her explanation? She even had a comparison to simplify the topic.
Even the rabid audience on social media made a flowchart of her logic. But then it's the thought that counts right? She was simply trying to tell you in the simplest way she knows how the law works!
How can brands use this lesson? Be passionate about your topic – your products or your services or your brand. Make it super easy for your audience to understand you. Create infographics, comics, posters, or videos that can be used to communicate your offer on social media.
3. Trending is not the goal. RELEVANCE is.
And because her post was also about "Bawal Lumabas" or "Stay Put" / "Stay Home", her message has been constantly referred to as basis for compliance.
Take a look at this reference by the Presidential Spokesman Harry Roque. He was actually referring to the trending post of Kim Chiu to also make his point relatable.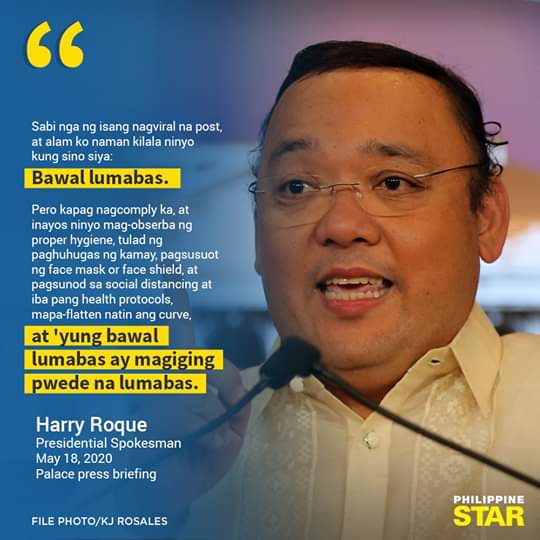 Because her video was too relevant, it actually became trending too. Two birds in one stone.
How can brands use this lesson? What are the topics that your audience is interested in and how can your products or services make yourself helpful and relevant? Think about that and make it part of your content strategy on social media.
4. Video is the way to go.
Have you heard of TikTok last year? I am sure most of you have not.
Because of the pandemic, people are no longer video or camera shy. They have been dancing, wriggling, and twerking for the pleasure of their audience on this platform called TikTok.
And that's how Kim Chiu's message became trending: VIDEOS.
An artist named DJ Squammy Beats created the trending audio that has been danced to and made song covers of.
How can brands use this lesson? Experiment on the platforms you are on and the format that you can use as part of your social media strategy. If you want your brand to have relevant content, you also need to experiment.
5. Bawal ang pikon.
Do you know what became trending on Twitter as of writing? It's the hashtag #WeStanKimChiu. And why is that? Because she stepped up and was "game" about the viral videos on her Law of Classroom. She wasn't PIKON at all.
She went with flow and created her own song. Hopefully with the consent of DJ Squammy Beats.
How can brands use this lesson? If your brand goes through a reputation crisis due to something that was said or done, execute a crisis management plan. What should you say or do that still aligns with your brand values? But remember that there is no such thing as bad PR. It all depends on how you react.
6. Observe community feedback.
Most importantly, observe the feedback of your members, your audience or your community. Look at your numbers and KPI.
In the case of Kim Chiu, she must be giddy seeing that she became trending due to her BRAVERY. She faced the issue with class.
How can brands use this lesson? Take a look at your KPIs – your insights and reports. What worked? What didn't? Which audience and personas are responsive? Which locations are they from? What creatives and copies are they responsive at? And from there, adjust your message.
Perhaps after this, Kim Chiu might be looking at being elected and being a public servant after being so passionate about this topic.
With great clout, comes great responsibility. Bawal pa rin lumabas.
If you want to learn and Master Social Media Campaigns, you can purchase an access to our video series here and learn: https://vimeo.com/ondemand/mastersocial/
If you also want to join a live webinar series, we have one this June 2020 every Friday night —
Topic lineup – http://bitly.com/ecomsummitcebu
Buy an access pass – http://bitly.com/ecomsummitcebupass